Join LSS before Christmas for class discounts all through 2022
The new LSS membership 2022 form is now live, so why not join now to secure your membership with full benefits including discounts on class fees until 31 December 2022!  Check our schedule for details and register for classes online.
Quadra Nights back with a Bangu special guest! 
London School of Samba celebrated a very special Halloween with our first monthly Quadra Night in 18 months. We welcomed a special guest from Rio,  Claudio Penido of Unidos de Bangu samba school,  in London to receive a Brazilian culture award. Read the full story with videos and photos.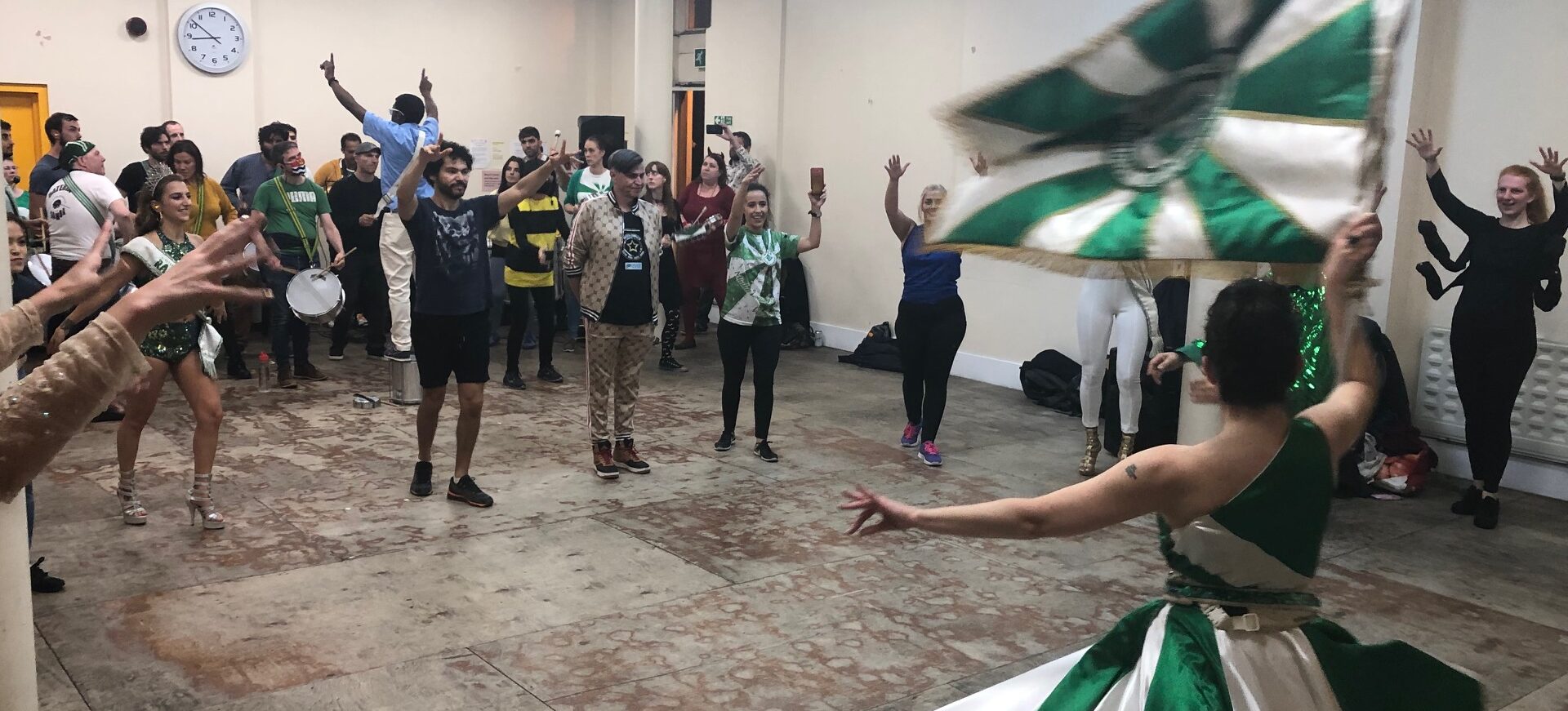 LSS Mestre-Sala and Porta-Bandeira to parade at 2022 Rio Carnival
Our Mestre-Sala and Porta-Bandeira, Marcelo dos Santos and Davina Greeves, have been invited to represent LSS in the Unidos de Bangu parade in the 2022 Rio de Janeiro Carnival. Davina and Marcelo will parade as the '3rd couple' of Unidos de Bangu … Read the full story
"This is great news for our School and we are delighted that LSS has been chosen to represent the legacy of Castor de Andrade in the person of Marcelo and Davina!"
Marcelo and Davina at the London New Year's Parade 2020 – photo by Miko Jacqueline.
All our costumes are made by hand and you can learn the techniques used at one of our costume making workshops.
You can also hire one of these spectacular outfits for an event.
Experience Brazil through samba dancing and samba drumming. Everyone is welcome at the school and there is a place for everyone.
The schedule for the next weeks
Don't miss out on dance and drumming classes. Take a note of our next "Quadra" party.
Get to know the teachers
As a school we are grateful for the amount of talent we attract and quality we can provide to our students.
How it all started
We've started humble and have flourished. But we'll never stop learning and growing.
Volunteer opportunities
We are solely run by members and we always look for committed people who want to make things happen.
I have never danced before, can I come to your classes?
We have a beginners class which is perfect for people who are new to Samba and want to develop their dance technique. Our teachers are warm and caring with focus on having fun. No one judges you for not getting the dance steps straight away as you are just starting out or overly worries about you making mistakes. Just come!
I have danced samba before, can I join your performance group?
For those who are familiar with samba our Level 2 class offers you the opportunity to continue the fun while developing your dance and performance skills. It's from here where the potential for more dance performance opportunities in our school opens up.
Do you have samba parties I can join?
The final Sunday of the month we have a special dance event called Quadra night. This is when our drumming group (Bateria) join with the dance class for a memorable night of passion and energy. While you may not be able to get to Brazil this class replicates the feeling of Copacabana beach during carnival. We usually have a short show from our performance group and then dance the rest of the time to the pounding samba beats. With the night finished we all head over the road to the pubs for drinks and a chat. Find below a video showing a typical Quadra night.
I'd love to learn to play the drums. Which instruments do you have?
The core instruments are:
Feel free to just drop by on a Sunday and pick your favourate instrument.
I have children, do you offer samba activities for kids?
We offer classes to people of all ages and part of what we do is facilitate classes for children of all ages. From Early Years classes at the Tate, Primary School children performing with us for Waterloo Carnival, to a combined group of Primary Schoolers offering a samba percussion accompaniment to the BBC Orchestra. Find out more
here.
The London School of Samba EXPERIENCE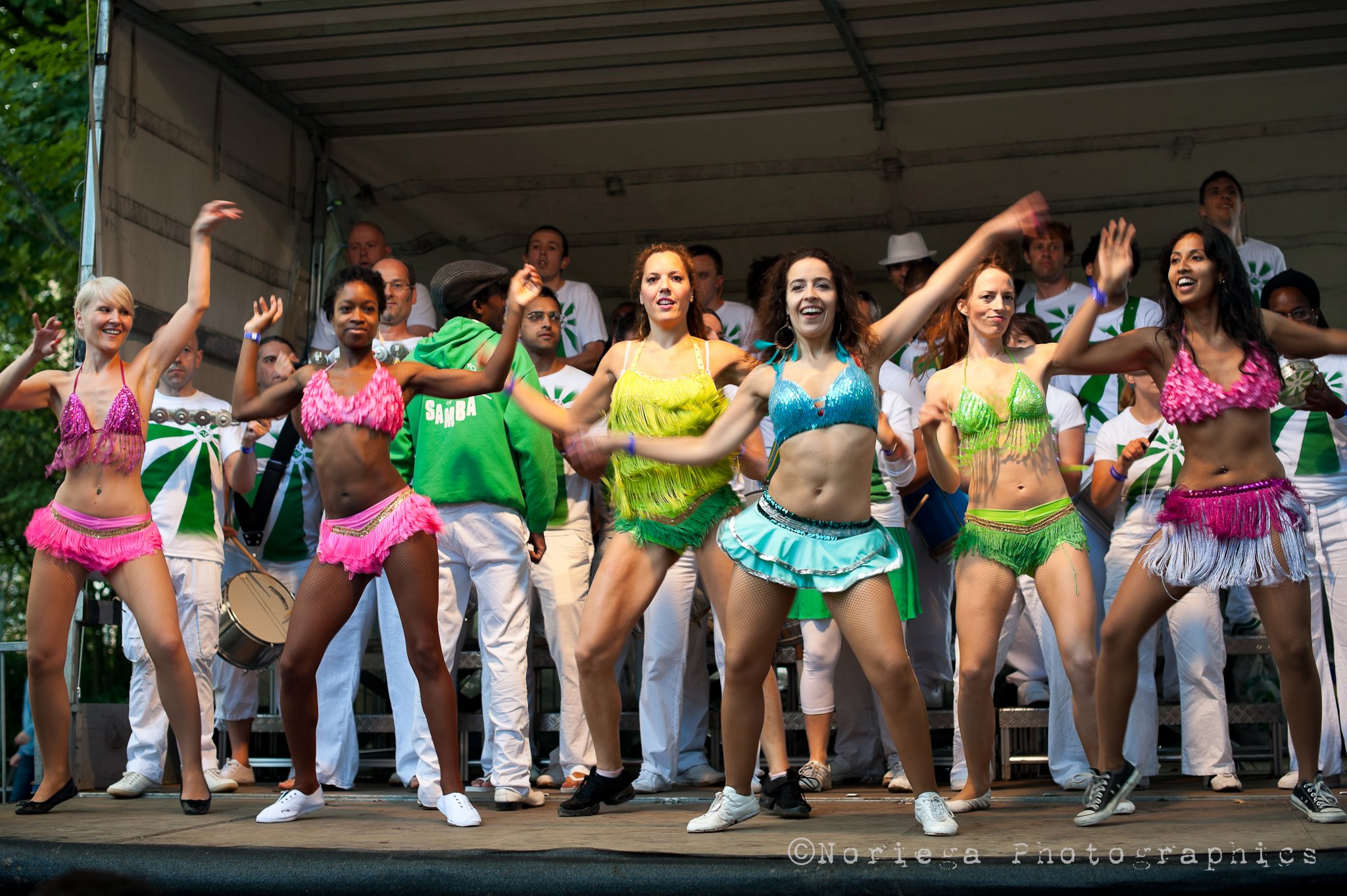 Dance Classes
Learn  to dance Brazilian samba whether just for a good mood glow, your personal fitness or to become a samba performer in London.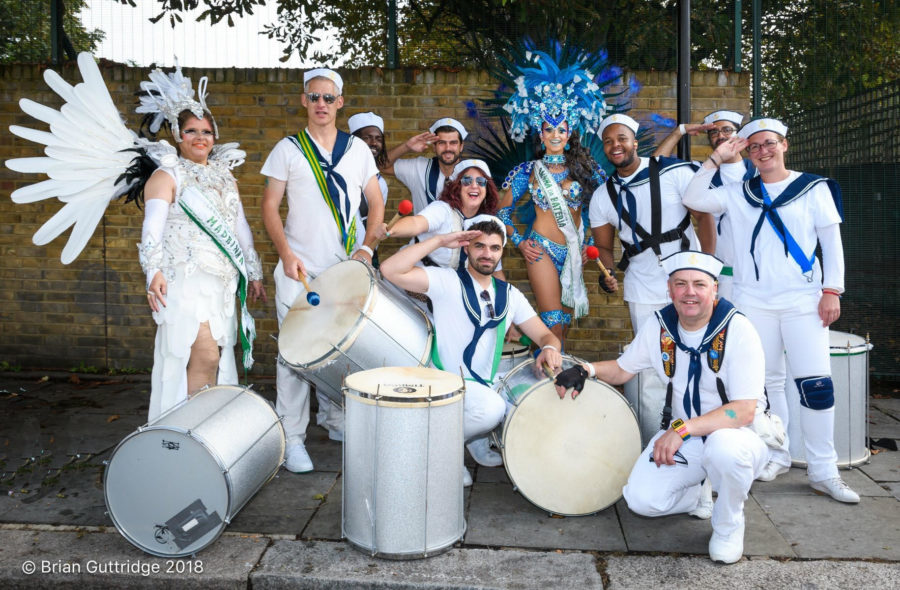 Drumming Classes
Always wanted to learn how to play an instrument? We have plenty to choose from. Come and learn to play just for fun or to perform with our Bateria. Experienced and new players welcome.
Book us for your next event
You can book us for shows, birthday parties, staff or team building events and many more. We also provide teachers for dance classes or community events.
Find Your Balance. Set Your Goals. Take A Challenge. Celebrate Yourself.
The  Performance Group:
our dancers have been carefully selected on their commitment to the school and their samba no pe skills. The performance team is a great aspiration for many dancers within the school and the normal process involves being spotted by a dance team member noticing outstanding dancers with strong dance skills and an alignement with the values of the school. If you would like to join the performance group feel free to email lss.dance.lss@gmail.com
A journey to a happier world
with samba. Subscribe now.