Countdown to Notting Hill Carnival!
SAMBA DE ENREDO

201

9!
 Listen to our samba that will be performed at Notting Hill Carnival this year. 

35 Years and Going Strong!
London School of Samba offer dance and drumming classes for complete beginners to performer level. We parade every year at the Notting Hill Carnival which is open to all abilities. Our performance group travel the UK and abroad to do shows and are available to hire for private functions>>.
All our costumes are made by hand and you can learn the techniques used at one of our costume making workshops. You can also hire one of these spectacular outfits for an event. There are also regular Make-Up workshops to learn how to prepare the performers for shows and carnivals.
We are a friendly charity whose mission is to allow people to experience the feel and emotion of Brazilian arts through samba dancing, samba drumming and carnival preparations. Everyone is welcome at the school and there is a place for everyone.
Book Us For Your Event!
We offer a variety of packages for your festival, Gala event, party or TV Show. We have a long track record of performances and excel at delivering a spectacular and colourful event. We have performed in over 1000 live events in countries around the globe. Memorable shows and venues include:
LSS provides an authentic taste of Brazil; exuberant and colourful. We are flexible with our performance routine from being able to fulfil a gig in front of thousands of people to more intimate corporate affairs.
For more information check out our bookings page>>>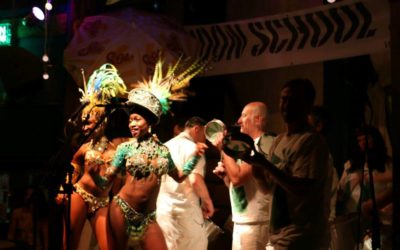 We are pleased to announce that this year London School of Samba's 2018 Samba de Enredo Competition will take place at Floripa on Wednesday 18th April from 19.30.
This competition is one of a kind in the UK, as we invite talented musicians to compose sambas, and the winning one, chosen on the night by a panel of judges together with LSS members, will be sung and played by the School at Notting Hill Carnival and throughout the whole year!
We are only one of a few European Samba Schools to hold a competition of this nature and we're proud to see a high number of entries for this year.
All songs are going to be performed on the night accompanied by a live bateria, giving you a proper taste of this year's carnival! And our theme for this carnival is "For the beauties of the sea: Yemanja guide us."
After the competition, the vibrant surroundings of Floripa will be filled with Carnival celebrations, and live performances from our own bateria and dancers!
So don't miss out! And if you are a member of the School your vote will count!
Start 8.30pm  Free entry!
************************
This years entries can be listened to before the big day by clicking here>>>
The songs are –
– Iemanja – Gregory Cowan
– Moça da Infinidade: "As belezas do Mar" – John Hicks / Nuno Marcelino
– Um Desejo de Iemanja: "Flores sim, Plástico não" – Xavier Osmir / Paul Rumbol
– Pela beleza das águas – Ivy Lemos / Ioanna Marathefti
– Puxando as Ondas – Christopher Mullins-Silverstein / Ramon Fernandez
– Para as belezas do mar: Yemanja nos guia – Kati Borgers / Vik Choudhuri
– Untitled – Carlos Santana / Remy da Souza
As a member you will be able to vote on the song you want to represent us at this years' carnival. A reminder to the theme for this year can be found here>>>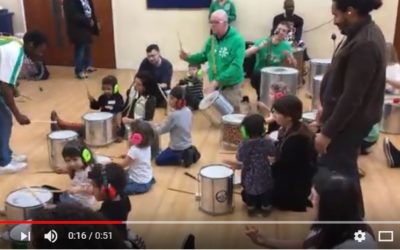 Last month we held our first little sambistas classes. A great time was had by all. You can see what happened here on the video below.  Please spread the word to any parents so we can let them know for our next one. We have a email list for interested parents. Please email your interest to Fee on commslss@gmail.com who will add you to it.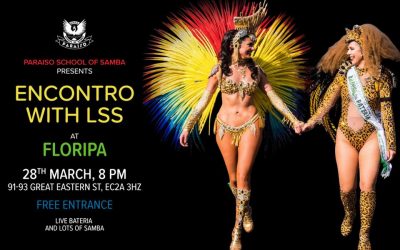 Paraiso School of Samba invites London School of Samba for an Encontro, where we combine our samba love to create a Brazilian Carnaval party @ Floripa.
Show with Passistas from both schools, with both Queens and live drums with both Baterias, LSS and Bateria Firebird.
Don't miss this great opportunity to enjoy and celebrate Brazilian Samba with the best Schools of Samba in London.
For more details check out the Facebook Event Page>>>