Volunteer For Notting Hill Carnival 2019
---
Looking for the opportunity to be directly involved in Europe's biggest street carnival with London's original samba school? Look no further!
We are hunting for volunteers to help us at the school's most important and exciting event, the Notting Hill Carnival parade!
Your role will include helping to look after the wellbeing of our performers by handing out water and snacks, assisting with rope handling (to manage the route of the parade) and handing out flyers to spectators along the way. Our volunteers will also need to maintain communication with the carnival organisers to make sure everything runs smoothly on the day. You can also unleash your creative side by helping with costumes, make up and float building!
Benefits include discounted drumming and dancing lessons at the London School of Samba.
Volunteers must be free on 26 August 2019 and be 18 years old or over. You can also volunteer if you are 16 or 17, but you must be accompanied by an adult (over 18 years old).
About the London School of Samba
The London School of Samba is committed to advancing education for public benefit through the promotion of the arts, with particular (but not exclusive) reference to Samba music, dance, costume-making and the culture and tradition of Afro-Brazilian carnivals. We are a volunteer-run organisation and we take pride in connecting people from all backgrounds through the love of art and dance.
The London School of Samba has been helping people experience Brazilian Carnival Arts since 1984. We provide weekly classes and workshops covering dance, drumming, costume-making and much more. Each year we participate in the Notting Hill Carnival and other smaller parades, and we also perform at live shows and gigs across London. We are linked to Brazil through our godmother school Mocidade—2017 Rio Carnival Champions! Back in the UK, we have been featured in many magazines, newspapers and TV shows—you might have seen us on Strictly Come Dancing or Britain's Got More Talent.
What We Are Looking for?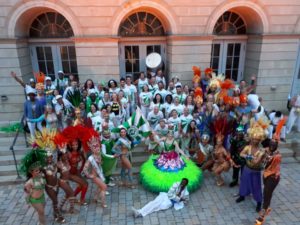 No experience required, just lots of energy on the day and willingness to get involved in our wonderful and diverse Samba community.
Volunteers must be available on 26 August 2019, ready for an early start (7 am) and be available for the entire day. We will all meet at our carnival base in Shepherds Bush before making our way to the Parade starting position near Westbourne Park. The parade ends near Ladbroke Grove and we will then walk back to our carnival base.
Volunteers must be free on 26 August 2019 and be 18 years old or over. You can also volunteer if you are 16 or 17, but you must be accompanied by an adult (over 18 years old).
We are really looking forward to welcoming you into the team, so if you have any questions or require a little more detail about the event or other volunteering opportunities, then please email lss.carnivalmanager@gmail.com and we'll be in touch!
The Performance Bateria are the group of drummers who are chosen (by invite only) to perform at most of live audience events our organisation encounters as the London School of Samba (LSS).
This group is an invite only group. At the LSS we generally look towards recruiting from developing guests and members attending our open workshops on Sundays at Waterloo Action Centre (WAC) or people we've encountered elsewhere in the world playing samba and have relocated to London. But if you are new to the LSS but have some previous samba experience you'd like to join the gigging bateria, simply come and meet us at WAC on a Sunday and either let a bateria director or the mestre de bateria know you're interested and we'll have a look at your skills there and your community spirit and let you know when we reach a decision.
Either before or after you see us at WAC, email us you intention at lssbateria@gmail.com
In the performance bateria known as the 'gigging bateria' you will be expected to learn more about swing, groove,bossas (breaks) and their relation to various LSS acoustic sets, to learn sambas from the school of past and present as well as some chosen samba from schools from Brazil (in Portuguese) and choreography to aid the performance (something we pride ourselves on). In addition to this we encourage you to increase you general samba knowledge, keep up to date with current samba news and learn about samba's history (although that will be taught school wide) and learn portuguese (even if it's only a little bit).
If you're not initially selected it generally because we feel you have to work on technique, memory or something else there are still opportunities to perform with the samba school in front of a live audience. We hold 3 or 4 performances a year where we invite any member of the samba school to join us for these public performances at events such as the 'London Marathon' or the 'Vitality 10k' and is a great way to bring everyone in the school and other samba friends together. The aim is for each individual to be able to handle the pace of gigging bateria rehearsals and not feel overwhelmed or muddy the collective sound of the bateria. 
From no samba experience to fully fledged gigging bateria percussionist may take time, it may not, so a 'no' from entry to the group from us is not personal or a complete rejection, it's simply stating that for some reason at this time either from us, yourself or circumstances like covid numbers, that it's just not possible at this moment in time.
But don't give up, keep trying. You'll still get to play at school wide gigs and we'll eagerly await the time when the circumstances are right to welcome you in our gigging crew.